To disassemble or not to disassemble the furniture, that is the question.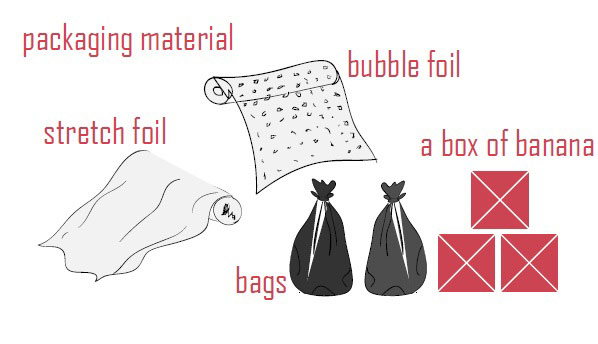 Experience has taught us that it is always a good idea to disassemble larger things, especially for longer distance.
Semi-large things: it's a semi-good idea to disassemble them. It depends. After disassembling them and putting them back together, they might be a bit less firm, but you will save their surfaces from getting scratched, and you will save space in the van for other things.
Small items don't need to be taken apart, or if you are only moving for a short distance, just skip taking things apart, it will work out.
Useful equipment for a moving pro
Foil/wrap
Tape
Large plastic bags
Boxes
Wrap
The most universal item is stretch foil. Perfect as basic protection for just anything. You can buy it here or try hobby stores OBI, Bauhaus, Unihobby, Hornbach.
You need one roll for approximately one couch, one wardrobe and two large armchairs. If you need a lot, we recommend e-shop in map.
Bubble wrap
Might seem to be the best, but it is hardly ever really needed. Good for mirrors or paintings, but you can do without.
Giant plastic bags
In our opinion, 120 liters is the best size, or something in that zone. They should be of decent quality; do not try to save on this. Ideal to transport clothing, kid toys, cushions, blankets and other soft stuff. Not that great for books, dishes, food, pots, electronics. You can buy them at the same places as wraps.
Boxes
Moving boxes Brno- almost any boxes are good for moving. We recommend asking at any nearby store. If there are no stores where you live (sure the neighborhood has other advantages…), stop by at:
Alberts: Oblá, Hrnčířská, Mendlovo náměstí or at Billa: Stránského, Přívrat, Herčíkova. Albert's and Billa are quite good for this and in these stores the staff is usually friendly and helpful. Lidl and Tesco are typically not good.
Of course, the best boxes ever are BANANA BOXES. Just a reminder: banana box dimensions are 50*40*25 cm. An incredible thing exists in Brno: Banana box rental. Or you can buy your own boxes: Ikea, Kika, OBI, Bauhaus, Unihobby or Hornbach, etc.
Do you just need more banana boxes and want it easy?
After hundreds of happily moved customers, we swear by these stores for banana boxes: